Please contact us for shipping.
Alfa Romeo 4c carbon trunk spoiler ver2 by TEZZO
Alfa Romeo 4c carbon trunk spoiler ver2 by TEZZO
---

We memorialize the start of the 4c club Japan and offer it at limited discount price 199,000 yen (tax-included) instead of normal price 248,400 yen (tax-included)
We changed specifications of it with rloss finished carbon fiber as TEZZO carbon trunk spoiler ver2 for Alfa Romeo 4c!!
【Product features】
(1) Adding flip-up shape on the trunk end makes your 4C look more sporty.
(2) We extended 30mm than when it launched.
(3) To improve aero dynamics, we reconsidered and diviced the shape.
(4) Extending and emphasizing the shap from the trunk gives you a sense of unity.
(5) Carbon fiber matches yor 4C regardless of colors
Materials: Carbon gross Bragg specifications (painted glossy)
■We accept a reservation to install, please don't hesitate to conntact TEZZO BASE !
TEL:045-948-5535
---
【Recommended】
・TEZZO real carbon millor case (stock replacement) for alfa romeo 4c


having both should gives you more sense of unity !

Carbon fiber extearia makes your 4C more sporty.
---
【User's impression】
〜coming soon〜
---
【media】
In "ROSSO 4C" luxury sports development project"menu04,
This TEZZO alfa 4C carbon trunk spoiler was introduced.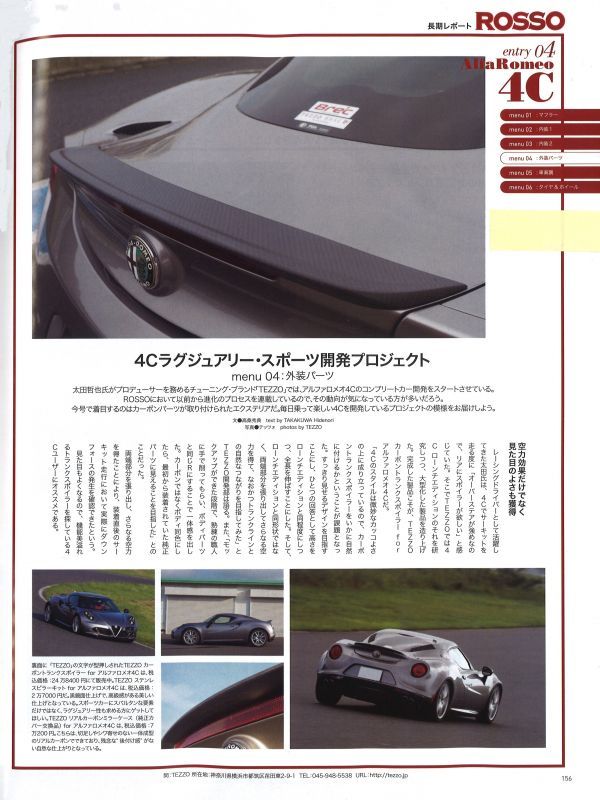 ---
【Movie】
---
【Q&A】
Q: Do you have a stock? Or What is the shortest delivery date?
A: This product is handmade by craftsman and is build-to-order.
Q: Because I am away, I can't visit TEZZO BASE. Is it possible to buy it online and install it at a shop other than TEZZO BASE?
A: There are shops capable of. TEZZO STYLE have connection with shops all over Japan, so if you contact us, we can offer you the best shop.
Please do not hesitate to contact us.
---
【Our blog】
【4C#29】Story of developing Alfa Romeo 4c carbon trunk spoiler(1)
【New arrival】Alfa Romeo 4c trunk spoiler by TEZZO
[x]改行は
タグに置換する [ ]URLはリンクタグに置換する
Alfa Romeo 4c carbon trunk spoiler ver2 by TEZZO
Selling Price: US$1,826.00(tax incl.)
Available